Now is the time to buy property in Italy, but if you are at the start of your property buying journey, how do you get started (other than subscribing to our Italy property magazine, of course 😉 )?
If you are just starting researching property for sale in Italy, you may be worried about the time and expense required for viewing properties. However, the truth is a lot of the research can be done ahead of time, so when you are ready to undertake your first property viewing trip, you will have a firm idea of what you are looking for and not waste time and money viewing unsuitable things or making bad decisions.
The current exchange rates make buying property in Italy an even more attractive prospect and it is totally feasible to find Italian property for sale at bargain prices. And I'm not talking about a ruin which is little more than a pile of rubble, I'm talking about beautiful Italian properties which are packed full with unique features and ready to move into.
Doing your research before you start looking to buy property in Italy will help save you time and money later and ensure that the Italian property bargain you have found not only fits neatly into your budget, but also ticks all the other boxes too, like lifestyle, business potential and long term investment. If you are starting out, check out our 100 questions post which will give you all the questions you need to answer to get clarity as to what you want from your Italy property purchase.
Research Your Italian Property Purchase From Your Armchair!
If there's one thing that life during a pandemic taught us, it's how much we can do from home and this includes doing your initial research as you start out on your Italian property journey.
Luckily, if you are a true Italophile, doing your initial research won't be a chore, as you will be immersing yourself into all things Italy and getting a feel for what's important so you can really narrow down your search for the perfect Italian property.
Check out our guide to the regions of Italy as this shines a spotlight onto some of the more interesting features of the different towns and cities. This will get you started and help you get a flavor for the different regions and what they have to offer.
Here are some other ways you can research when you are looking to buy property in Italy - all from the comfort of your armchair!
Italy Webcams - Live View of Italian Regions to Buy Property
When you are narrowing down the locations and regions of where you would like to buy property in Italy, check out and see if there are any webcams in that area.
Ideally you'd have the time to visit and explore all of Italy. However, that's not always possible, and if time isn't on your side then checking out webcams can give a great insight into life in some of Italy's hotspots.
Skyline Webcams have free webcams in a lot of different locations in Italy, including well known tourist attractions as well as some more off-the-beaten-track places. Take a look at the whole list HERE.
Webcams like this are super-useful for getting a feel for an area 'live' and as it happens. You will see the weather, volume of people etc. This will be handy if you are looking to buy property in Italy to rent out as you can check out the different tourist locations on webcam before visiting in person.
While this is, of course, no substitute for the real thing, it is a good alternative when you are researching your property purchase in Italy.
Google Maps and Google Earth - Birds Eye View of Where to Buy Property in Italy
Both Google Maps and Google Earth are essential tools for researching when you are looking to purchase property in Italy. While this is no substitute for an in-person viewing, it will certainly give you a much better insight into the areas you are looking to buy Italian property. Both Google Maps and Google Earth will give you an idea of what a location is like and they can often also allow you to take a 3d view. This is highly useful for checking out things like hills and valleys which may affect sunlight or travel.
Streetview is also an extremely useful tool, however it's not so great in rural areas and there may be areas where you are researching where Streetview is not available
One handy feature of Streetview is the history function. If there have been previous versions of Streetview you can go back and see the older versions. If you are researching specific properties and there are historic versions available, this is absolute gold! If, for example, you go back in Streetview a few years and see the property was still for sale then or that the condition of the area has improved /deteriorated, it gives you a useful insight for when you come to narrow down the potential properties to view and gives you a more complete understanding for negotiations.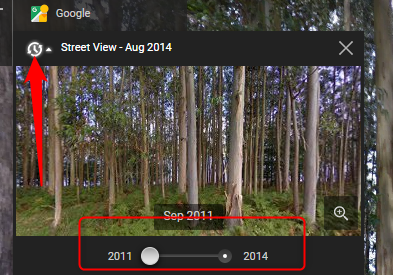 What's The Weather Like In Italy Today?
There are many reasons why you are looking to buy property in Italy and the weather is likely one of them. The webcams we mentioned above will give you a really good insight into what the weather is like today, however the Italian weather service is also a great site to check out.
You can narrow the view down to regions and areas to get an idea for what the weather is like at a local level and compare areas.
Remember when you are researching to compare weather conditions in different areas as it may vary greatly.
Tip: If you are used to viewing the weather in Fahrenheit, try to get familiar with viewing the weather in Celsius. This is how you will see the temperature listed in Italy.
Local News
Reading local news can give another useful insight into different areas when you are looking to buy property in Italy. While the international versions of the news service in your home country will give you top-level news about Italy, it's the local Italian news providers where you will find the things that will help you most in your research.
While this, of course, will depend on the areas you are researching, looking at local news will tell you things about what's happening on the ground that maybe relevant to you buying.
There are some English language news services including:
However, search for local news which will cover the areas where you are looking to buy property to get the real local news. It's here you will read the information that real estate agents may not think to share. For example, if you read about traffic queues in an area causing a problem or an increase in digital nomads visiting the area, this will give you useful actionable information for when you are really narrowing down where you want to buy property in Italy.
Italy Regional Groups and Forums
Groups and forums can be another great source of information when you are researching. In addition to joining groups like our Facebook group, dedicated to people looking to purchase property in Italy, look for groups and forums where people who are already living in an area hang out.
You will soon get an idea as to any local issues, things people love, any things that are challenging etc.
These groups will also be a great place to network when you are closer to your Italian dream.
Instagram Hashtags
...and the very last tip we are sharing today is to take a look at Instagram hashtags for the areas you are looking to buy property in Italy. These are particularly useful if you are looking to rent out your property to guests as you can see the sort of activities 'real' people are doing and not just what travel companies or real estate agents show us!
This is one time where a photo of someone's dinner plate is actually quite interesting as again, you are getting a birdseye view of what 'real' people are eating!
---
While armchair research won't give you all the answers, it will certainly give you a great foundation of knowledge for when you take the next step forward in your Italy property purchase dream.
If you are already familiar with an area, down to knowing what to expect from weather, being familiar with different locations from viewing webcams, have explored using Google Streetview etc, you won't waste precious time on your property viewing trip or end up potentially making a wrong decision.